| COMMUNITY APOSTOLIC ONLINE
Community Apostolic Online
Community Apostolic Online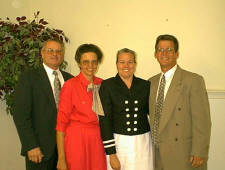 Greetings In Jesus Name!
We are a Church in Bonita Springs, Florida. We're part of the United Pentecostal Church International, but more importantly part of the worldwide Church of believers in the Jesus Christ.
Our reason for existing is that Jesus has touched our lives and brought us to a loving relationship with God as he has millions of people. As a Church we aim to be a place for people to meet together and worship God, to explore their faith, to ask questions about life and to enjoy life to the full.
Being a Christian means that God asks us to live a life in which we love Him, love all other people as much as ourselves and be a living witness for that love. Although we are imperfect, our actions, thoughts and prayers as individuals and as a Church seek to express this love and hope that it provides a route for other people to know God.